Glass shelves are a unique and impressive addition to any home. They are the perfect accent piece and are great for blending in with the existing aesthetic of your home's kitchen, bathroom, bedroom or business. Whether you want to add new bookshelves to your living room or put glass shelves inside a cabinet, glass shelving instantly classes up the room it is placed in. Because it blends in, it doesn't give the impression of crowding a room, and can actually make a room look bigger than it is. Attractive lighting only enhances the beautiful look of glass shelving. Get started today by consulting the glass shelving installation experts in Fort Worth: Armstrong's Glass & Mirror.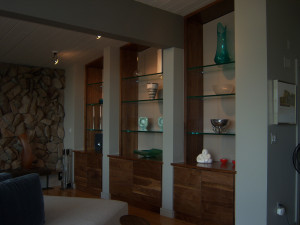 You may customize your glass shelves by choosing your favorite edge. Below are some of the different edges to choose from:
Seamed Edge: After the shelf is cut, the edges are sanded to a less-sharp degree in order to make the shelf easier to handle. Great for homes with children!
Flat Polish Edge: The edges of this glass shelf have been polished to a smooth shiny finish.
Pencil Polish Edge: Popular with circle or oval-shaped shelving, the side edge is rounded for a softer look.
Beveled Polish Edge: The edges of this glass shelf are cut and polished at an angle with a specific Bevel Width. This process leaves the shelf top thinner around the edges and thicker in the center. The Bevel Width around the glass shelf can range in size from 1/4″ to 1 3/4″ and is specified by you when you discuss the project with us.
For more information about Fort Worth glass shelving installation options, call Armstrong's Glass & Mirror at 817-937-6267 today.