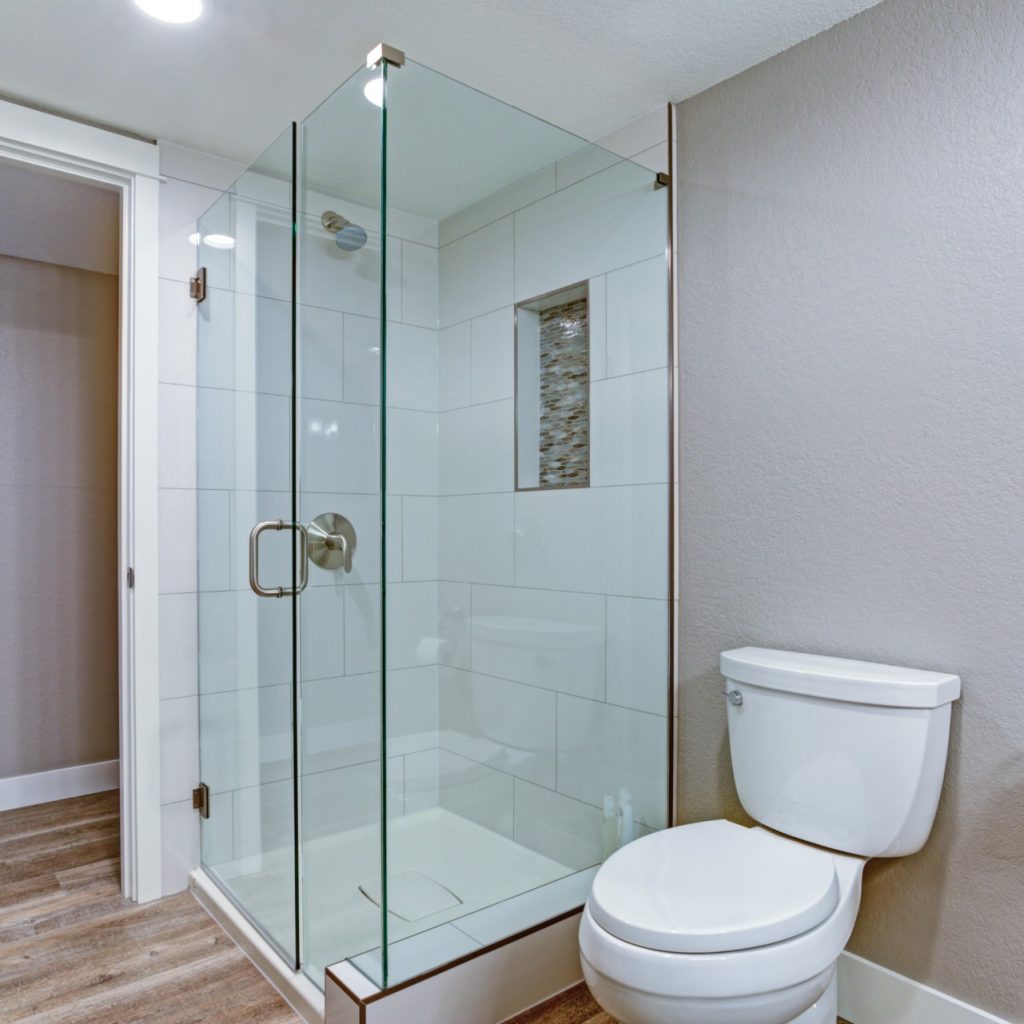 Beautiful glass for your shower
When remodeling a bathroom, it is usually intended to make it bigger, or at least feel bigger, to update it, or both, bigger and updated. Nothing can do both better than to install a frameless shower glass door. If you're old school kind of person though, you may ask "Will a frameless shower door leak?", and that is a legitimate concern and valid question.
There are tiny gaps at the hinges and along the sides of frameless shower doors, but when installed properly, the chances of leakage are unlikely. Besides having a metal track along the bottom that minimizes any water build-up at the base of the shower, there are guidelines and tips that will ensure your frameless shower glass door doesn't leak:
Slope the shower pan inward during installation to encourage the water to go with the natural flow toward the drain inside the shower.
Even with vinyl molding along the frameless shower glass door, make sure the showerhead is aimed away from the door and seams.
Check the molding along the seams frequently and replace them as needed. You can find videos online to learn how to caulk frameless shower glass so you don't have to pay a contractor for this simple home maintenance routine.
Hire a reputable company and contractor that knows how to install frameless shower glass to be sure it is installed properly and that you have a guarantee and warranty.
Are frameless glass shower doors safe?
The look that a frameless shower glass door gives a bathroom has made this a popular feature among homeowners. However, it is understandable that there is a concern about their safety, especially with children in the house.
Both framed and frameless shower glass doors have had reports of shattering, even in the middle of the night when not in use or anyone near them. These reports have been on doors made by various companies and are rare. The glass used in this popular design for a frameless shower glass door is a specially hardened glass that minimizes any shatter risk.  They design this type of glass to break in small, uniform-shaped pieces with rounded edges. Because of this, there is a reduced risk of anyone being hurt. On the rare occasions this happens, it is one of the following reasons:
Small cracks where clips and frame meet
Improper transport
Improper installation
Prolonged use
What is better frameless or framed shower doors?
They usually make both framed and a frameless shower glass door with tempered glass that is treated for easy cleaning. Thinner glass is used for framed doors because it is supported by the frame which is typically aluminum and sometimes finished in a smooth or textured powder-coating in various colors. The glass is then sealed as they install it into the frame so it doesn't leak.
Frameless shower glass doors are made of a thicker version of the tempered glass and the clips, hinges, and door are set into that thicker glass. Clear silicone is used to caulk the corners and edges to seal them to the glass. Most of them will have a rubber "sweep" installed along the bottom to keep any water from leaking out.
What is the best thickness for shower glass?
Frameless shower glass doors design is not a one-size-fits-all. They can customize them in a wide selection of glass sizes, tints, and types, but your focus should be the thickness of the glass. As a universal rule, a stationary Frameless shower glass panel is half-inch glass. However, a frameless shower glass door will be opened and closed, 3/8-inch glass is recommended.
A frameless shower glass door can break or shatter in just a minute, so it is important that if you're going with a custom frameless shower glass door, it is built right to make it safe. The thinner the glass may save you money, but it is putting your family at risk. It is best to have your frameless shower glass door installed by a professional, if for no other reason than to give you peace of mind.
How much does frameless shower glass cost?
Is it the ease of maintenance, less grime and mold build-up, or the open and pristine appearance frameless shower glass doors offer that is attracting homeowners? Whatever the reason, they aren't a passing phase, even though they are the more expensive way to go.
The cost of having a frameless shower glass door averages around $1,000. Yes, you can save a few hundred dollars if you do it yourself, but as we have stated already, having a professional install the door for you comes with a higher price tag but a peace of mind too.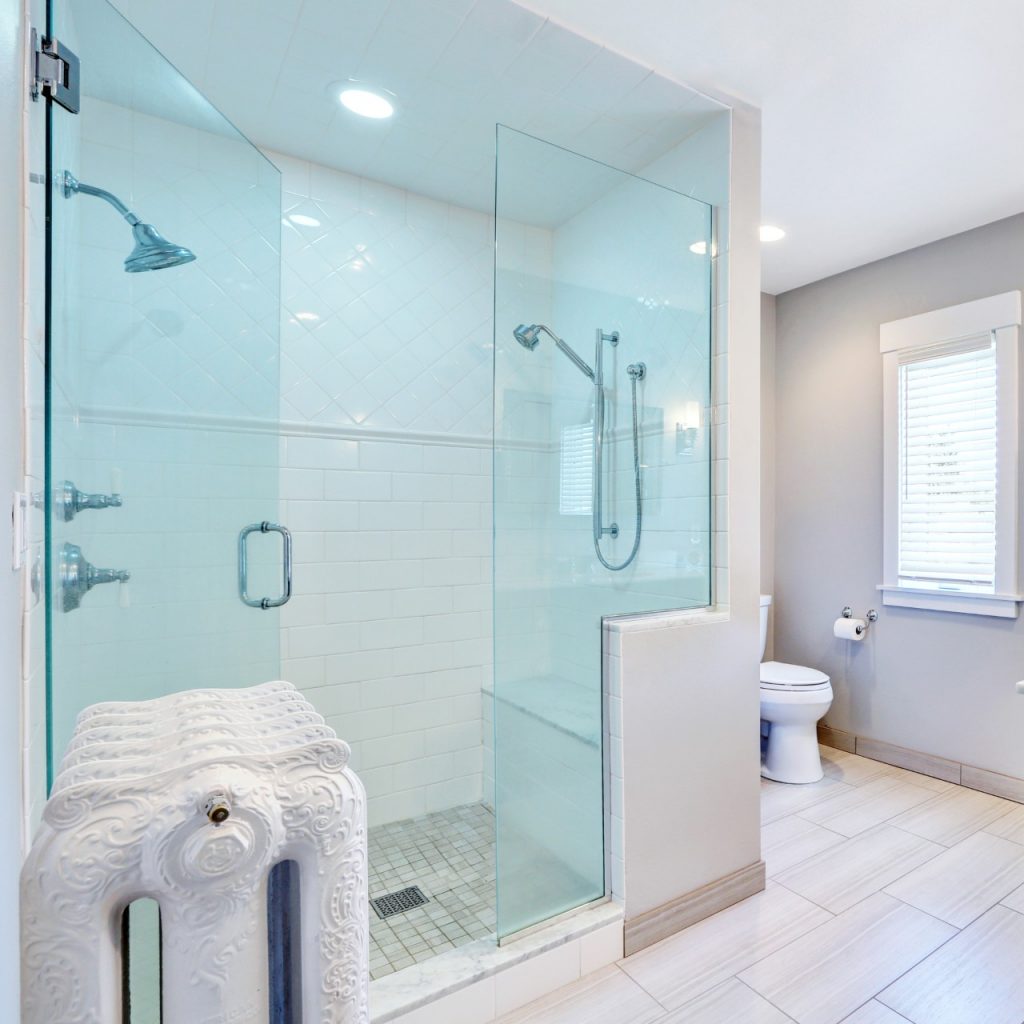 Do frameless shower screens leak?
There are rubber gaskets and silicone caulking around frameless shower glass edges that should keep water out. However, over time, they both crack can leak started. By checking them periodically and resealing with a clear silicone caulking or have the gasket replaced by a professional, you can stop the leaks before they start. The same is recommended if your frameless glass shower door not closing properly. Having a professional repair these issues is the safest way to take care of your frameless shower glass door.
There are advantages and disadvantages to anything, and that includes frameless shower glass doors. Here we offer you the following advantages:
Sleek Stylish Appearance
Easier to clean and keep clean
Resistant to mold and mildew
And the following disadvantages:
No seal to keep water in
Precise and proper installation a must
Rare chance of glass shattering
With all the information we've provided here and answered questions, if you choose to go with a frameless shower glass door, you'll be informed and ready! Dial 817-937-6267 today for your frameless glass installation in Fort Worth, TX from Armstrong's Glass & Mirror.