Dealing With Roofing Damage
When hailstorms, hard rains, and high winds come through Houston, roof repairs and replacements are soon to follow. Roof replacements are needed more often after severe weather, but when possible, a homeowner hopes for just a roof repair, as roof repair costs are much less and there is less work to be done. But how does a roofing contractor know when is it better to repair or replace a roof?
You, your roofing contractor, and possibly an insurance adjuster if there is storm damage, should consider the following things in determining if roof replacement or roof repair cost is the most feasible.

How old is the roof? 
There are several variables to consider with a 3-tab asphalt shingle roof, as this roofing's life expectancy maxes out at 20 years. A top-quality architectural asphalt shingle will give you up to 40 years of life expectancy. If any of the following are apparent, regardless of how much less roof repair costs are, you need a roof replacement: 
Blistered, buckling, or curling shingles
Bald shingles
Missing shingles
Sagging roofing
Moss covered roofing
Gutters filled with asphalt granules
How long do you plan on live in the house? 
If this the place you're planning to call home for a while and it is suitable to get roof repair, cost being much less, go with that option. However, if you're considering placing your home on the market soon, new roofing will get more attention from buyers and buyers will be willing to pay a higher dollar. Experts say that you'll get up to 60% or more back on your investment with a new roof! However, this brings up another commonly asked question – can you repair part of a roof?
The big question is – what is your budget able to afford? 
For many of us, getting a roof replacement isn't affordable, so if that is the issue, and repairs will suffice, the roof repair cost is much less and doable for those on a tight budget.
Another final consideration usually brings up the question of "is roof repair covered by insurance?" Yes, most homeowners' insurance policies will cover a roof repair. Cost is a factor for insurance companies, and if they feel the roof repair will suffice, they will pay for only roof repair.
However, if they deem the roof a total write-off and you choose only to have it repaired, note they they will not pay for another new roof later. Another consideration to make – insurance companies may not pay for roof replacement later if you choose the less expensive option of a roof repair now.
Okay, you know you need to decide whether to get roof repair, as the cost of replacement is an unexpected expense. So, will a roof repair suffice? Let's review the pros and cons of the possible answers to this question:
Patch Roof Repair 
A patch roof repair will be the cheapest option and it is a good option for a relatively new roof. If you and the roofing contractor are confident about the condition of the entire roof, and the repair will look as if it isn't a repair, then by all means, go with the roof repair. The cost of a new roof can be avoided without any concern of backlash and problems, so that is the better option.
However, if the roof is aged enough that the shingle colors have changed because of the sun exposure, a patch may be too obvious, and you likely will lose some curb appeal to your home. Taking the cheaper roof repair cost option may not be worthwhile.
Partial Re-roof vs Complete Re-roof
Another possible option when the damage is on one side is partial re-roofing just that area. This type of roof repair cost will be less than an entire re-roofing, but a bit more than just a patch job. The roof repair won't be as obvious and any color differences in the shingles aren't going to be as noticeable.
How much does it cost to repair roof shingles?
The roof repair cost will vary on several factors, such as the size and type of repair needed, and rates vary between contractors and from city to city. On average, a roof repair cost will typically range from $400 and up to $1,600 for a 10-foot by 10-foot square area.
How much does it cost to repair an entire roof?
Okay, so what if the insurance company is only going to pay for roof repair? Cost could exceed what they pay, which can be pricey. The average cost nationally is between $370 and $1,600. For smaller roof repairs, cost is commonly as small as $150 though it can go up to $400, with the labor being $75 per hour plus materials on average.
Your next question is, can you do the repair yourself, or can a handyman repair my roof and save me some money? Yes, it is your home, we can't tell you what you can't do. However, safety should be your main concern as you'll be climbing a ladder to heights you're likely not accustomed to, as well as carrying materials and tools. Your next concern should be the insurance company and whether it is you or a handyman doing the work. The insurance company may require that regardless of the roof repair cost, the work be done by a professional contractor that is certified and licensed. You'll want to verify this with your insurance policy and the company.
How much does it cost to repair a rusted roof?
While a metal roof is awesome in many ways, they do need some maintenance and upkeep from time to time. Depending on the type of metal roofing you have, with exposed fasteners, over time, they may corrode and rust. The roof repair cost for that can start around $500 and go up to $2,500 or more with the materials needed costing half of those amounts, the rest being labor.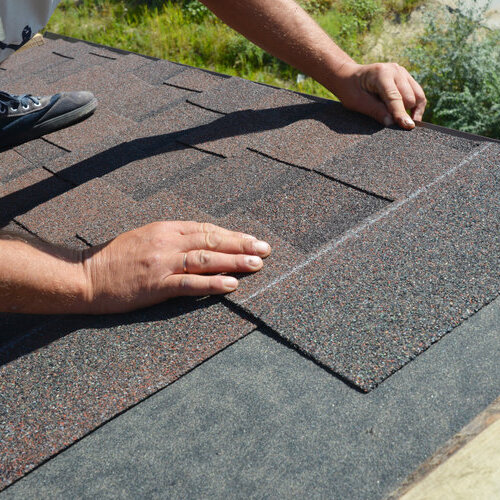 Let's Top This Off With Temporary Roof Repair
The cost of roofing is expensive, and sometimes we need to make temporary roof repairs until the contractor and insurance company arrive and do their inspections. So, what is a temporary roof repair? How do you repair a leaky roof?
If the roof leak is because of a few shingles coming loose, you can put them back and use roofing cement under them. Then, nail them into place. If there is an actual hole, you'll need to use a plastic tarp, some 2×4 lumber, and nails or screws to cover up the area.
Spread the tarp over the hole and nail or screw 2×4 lumber on all four sides of the hole to hold the tarp in place. And remember, this is only a temporary roof repair. The cost will be minimal but it will only suffice until you can get a proper roof repair.