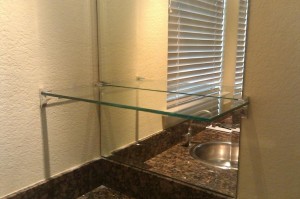 No other decorating element can change the visual character of a room like mirrors. A custom mirrored wall adds depth to the room housing it, making it appear up to twice as big as it really is. Armstrong's Glass & Mirror, a Fort Worth company, offers mirror installations for all applications: Vanity mirrors, mirrored walls, beveled mirror strips and much more.
A few of the mirror products we install are:
Full-mirrored walls or short-of-wall mounted mirrors
Custom, cut-to-fit picture frames
Vanity hanging mirrors
Standard and Custom Bathroom Mirrors
Mirror-backed glass shelving
Full-length closet doors
Re-decorating a home? Glass and mirrors are a classy element to add to any room. Our mirror installation specialists can stack glass shelves in the mirror, giving it a "floating" look that is great for bathrooms, bars and even offices. We will cut the mirror to your specifications and measure out the space before completing any work. We also offer many custom mirror design elements, such as:
Tinted Glass
Antique Look
Beveled Edges
Need more guidance on decorating with mirrors in your Fort Worth home? Our company's mirror installation experts can arrange a time to meet with you to discuss your options in person. We know how important your home is to you, and we're not satisfied until you are – and then some.