In a climate like Texas' it is not uncommon for skylights to become damaged over time by hail, ice and extreme heat. This is particularly true if your skylights are made of plastic. The easiest solution is to call Armstrong's Glass & Mirror in Fort Worth for glass skylight repair or replacement of your plastic skylight with glass. You won't believe the difference it makes.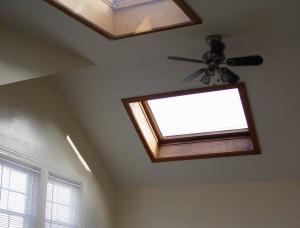 We can install energy-efficient glass in existing skylights or repair damaged or foggy glass. Foggy glass prevents light from entering your home. What's the point of a skylight if it doesn't let light through? Years under the Texas sun combined with the sudden spikes of snow and ice we experience in the winter can cause skylights to crack, leak and cloud up.  We replace and repair all glass skylight brands in Fort Worth, both residential and commercial.
Quality Skylight Replacement
Over time, leaks in the insulated glass of the skylight let water enter the window structure, which forces apart the seal of the insulated glass; this could mean water entering your home the next time a big rainstorm hits. If the seal has failed, give Armstrong's a call. We'll repair the glass skylight in your Fort Worth home in no time. Replacing the skylight may be the only way to remove all the condensation and fogginess of the skylight, though. We can help with that too.
Contact Armstrong's Glass & Mirror today at 817-937-6267 for more information on glass skylights and other glass products, including mirrors and windows. We are the premier Fort Worth skylight repair & replacement glass company.