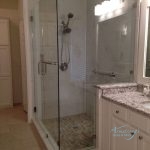 When you need a professional glass company in Bedford, TX, just to call the skilled specialists at Armstrong's Glass & Mirror. Our glass services like replacements and repairs are something we specialize in but, we do provide extra advantageous services. We have several services to choose from that include window, show and bath enclosure, and mirror installation, replacement, and repair services. Before we begin our services, our technicians provide a consultation to find out what services you need and then develop a tailored and personalized strategy for the service. Contact our office today at 817-937-6267 when you need a service quote or need to make an appointment time.
Glass
Bath and Shower Enclosures
Windows
Mirrors
If any of these bathroom enclosure, glass, window, or mirror services sound like they are able to help your house, feel free to call our glass company in Bedford, TX at 817-937-6267!