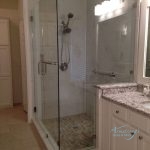 When you need a qualified glass company in Haslet, TX, just to contact the trained specialists at our company. Our customers will get fantastic glass repair and replacement services, as well as extra services. When you need a shower that is wheelchair accessible or you want to revamp your bathroom with a shower enclosure, we have the services for you. Our technicians can schedule a consultation appointment and sit down and talk about what service would be the best fit. Just give Armstrong's Glass & Mirror a call anytime at 817-937-6267 to either make an appointment or request a quote for one of our services.
Glass
Bath and Shower Enclosures
Windows
Mirrors
For bathroom enclosure, glass, window, or mirror, call the professional glass company in Haslet, TX at 817-937-6267.