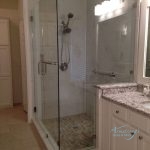 When you need an expert glass company in Keller, TX, feel free to contact the skilled specialists at our company. Although our company are experts in glass services, we do supply more services for our customers. It doesn't matter if you need a mirror installation for your bathroom or you are needing to repair one of your windows, our specialists are able to help you. Our specialists can schedule a consultation appointment and sit down and talk about what service would be the best fit. Contact our office today at 817-937-6267 when you need a service estimate or want to make an appointment time.
Glass
Bath and Shower Enclosures
Windows
Mirrors
If any of these glass, window, mirror, or bathroom enclosure services sound like they are able to help your home, feel free to call our glass company in Keller, TX at 817-937-6267!