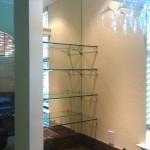 We all want every little detail of our home to look perfect. Unfortunately, this requires a lot of time and money. Here at Armstrong's Glass & Mirror, we want to do our part to help you get your house looking how you want it. Here, we'll go over the benefits of one of our installation options: glass shelving.
Customization:
You can customize your glass shelves exactly how you'd like. You can choose from seamed, pencil polished, flat polished and beveled polished edges. 
Collectors:
Do you like to collect things? Glass shelving offers the perfect showcase for your collection. Impress your friends with an elegant display.
Elegance:
Glass shelving just offers an aesthetic elegance that you cannot find anywhere else. While it doesn't have the high cost that it did in older times, we still associate it with affluence today.
Has this piqued your interest in glass shelving? If so, talk to one of the professionals at Armstrong's Glass & Mirror for more information about installation. We also offer many other services. You can reach us at (817) 937-6267.