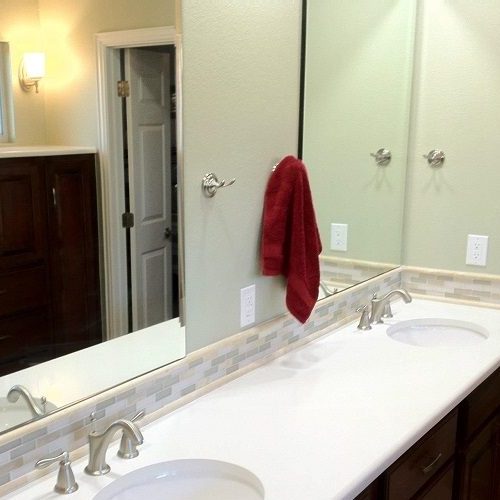 Bathroom Mirrors Ideas
Are you remodeling your bathroom and looking to add new mirrors to your bathroom? Bathroom mirrors are essential to any bathroom, as they help people get ready in the morning and in the evening. Not only do mirrors have a functional purpose, they can also elevate the aesthetic of a bathroom. There are a number of different bathroom mirrors to choose from, but with so much selection, it can be hard to choose the right one. Here is a list of the best bathroom mirrors that would work for any master bathroom or guest bathroom.
Vanity Mirrors: A wall-mounted vanity mirror is a type of mirror that is good to use while getting ready. They come in a wide selection of sizes that can work for any bathroom.
Medicine Cabinet Mirrors: The cool thing about this type of mirror is that has storage space behind the actual mirror. Usually, the storage is small shelves to put medicine or other toiletries.
Frameless Mirrors: Just like the name says, this type of bathroom mirror has no framing around it. The edges of the mirror are usually buffed so that the edges are not sharp or ragged.
Ledge Mirrors: Instead of hidden storage space behind the mirror, a ledge mirror has a permanent ledge attached so you have a place to set things.
Pivot Mirrors: Pivot mirrors are great as you are able to move the mirror upwards and towards to see yourself at different angles.
Circle Mirrors: If you are looking for something less traditional in regards to shape, circle bathroom mirrors are a great option.
What Height Should a Bathroom Mirror Be?
When choosing a bathroom mirror, many people tend to ask, "What size should a bathroom mirror be?" Deciding on the size of bathroom mirrors is going to depend on the aesthetic and style of your bathroom. You don't want to choose a large mirror for a tiny bathroom, so knowing the style of mirror you want, plus the size of the bathroom can help you find the right sized bathroom mirror. 24-inch mirrors are the typical size for good sized bathrooms, but they can also range from 30 to 36 inches. One of the best ways to ensure you get the perfectly sized bathroom mirror is to have the mirror custom made. Custom cut bathroom mirrors are a good choice as they can be cut to the exact size and shape that you need.
Bathroom Mirror Vs Medicine Cabinet
The biggest debate when it comes to bathrooms is whether to get a bathroom mirror or a medicine cabinet. The great thing about medicine cabinets is that some of them come with mirrors, so you can have the best of both worlds. When choosing between a regular vanity mirror or medicine cabinet, it's going to come down to how much storage space you have, how big your bathroom is, and what the style of your bathroom is. If you have a larger bathroom with lots of storage, then it makes sense to go with a regular vanity mirror or another design. A lot of people ask, "Can decorative mirrors be used in bathrooms?" and the answer is that you can use any type of mirror that you want in your bathroom. If you have a smaller bathroom and you don't have a lot of storage, it might be to your benefit to invest in a medicine cabinet mirror. That way you have a place for toiletries, but it will be hidden away behind a mirror. If you want a specific design for your mirror, its best to call someone who custom cuts mirror to specific sizes and shapes.
Can a Bathroom Mirror Be Bigger Than Vanity?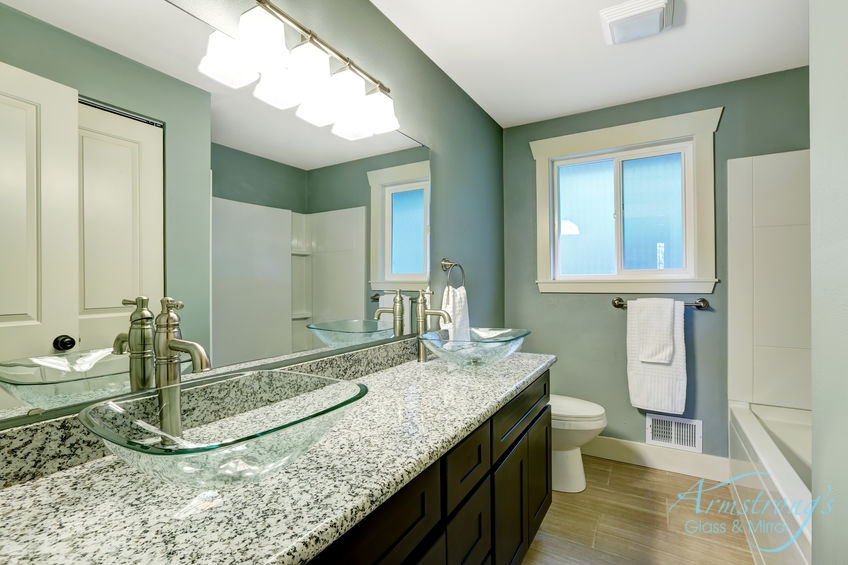 Do Mirrors Have To Match Vanity?
In terms of matching a bathroom mirror to a vanity, it makes sense to choose a mirror that is going to be two or four inches shorter than the vanity. The reason for this is because it can look a little awkward if the mirror is longer or bigger than the vanity. Another thing that homeowners are concerned with when choosing a mirror is if the mirror should match the vanity. If you aren't concerned with matching, then the mirrors don't have to match. Whatever type of mirror you think looks good and that you love, those are the bathroom mirrors you should go with. Just like you wouldn't get roof repair services from a roofer who isn't licensed or insured, you wouldn't go to someone for mirror installation who doesn't have the proper qualifications. If you are looking for bathroom mirrors in Fort Worth, TX, the best people to call are Armstrong's Glass & Mirror. We are able to customize bathroom mirrors to the exact shape and style that you want. To speak with one of our glass specialists, please call our office at 817-937-6267. We look forward to working with you.