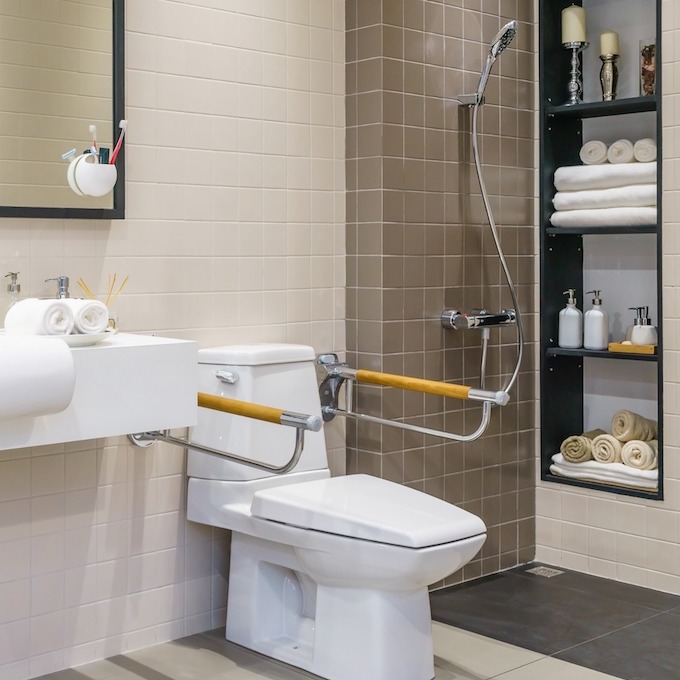 Discover Handicapped Shower Installations
If you have an elderly or handicapped member of your family residing in your home, a handicapped shower installation can be beneficial in many ways. Starting with allowing them more independence and privacy. Other benefits of having a handicapped shower installation include the following: 
Handicapped Shower Features
Provides several features to make showering easier and safer for the handicapped individual, including:
Lower threshold
Wide opening
Built-in seating
Grab bars
Improves the bathroom's overall look.
It makes the shower easier for the rest of the household to use.
What components are included in a handicap shower installation?
A handicap shower installation can have various components based on the needs of the person(s) the shower is focused on. For instance, instead of a freestanding shower stool, a built-in shower can be included, eliminating the possibility of the shower stool sliding out from under them. Most handicapped shower installations include a lower shower head and easy-to-operate controls and other modifications that can make it easier for whatever physical limitations may be challenging in a standard shower setup.
What is a shower chair or shower stool?
A shower chair or shower stool is seating that is specifically designed to provide an individual with a disability or limited mobility to sit while showering. A free-standing shower chair or shower stool is available in adjustable models, making it easier for the user to adjust as needed for their comfort. Some are available with a backrest and armrests, additional comfort for the user. These are useful in a standard shower when a handicapped shower installation isn't possible. 
Are there construction techniques specific for a handicapped shower installation? 
The construction of handicap shower installations should have the same basics of a standard shower including the drain, shower pan, and water supply with the following modifications:
Lower Flooring Required
Because a handicapped shower installation requires to have a lower threshold, it requires the flooring to be lowered to keep water inside the shower area. It still requires to be sloped toward the drain, so the water is captured and directed in that direction. 
To lower the shower area, the existing subfloor is removed, and the floor joists are trimmed between 1½ and 3 inches, with 2×6 boards bolted to the joists for reinforcement. Building permits are required in most Texas municipalities that will verify building codes are followed.
Shower Pan Requirements
After the flooring joists are reinforced, the subflooring should be installed with a shower pan constructed with 1/8" to 3/16" per foot with a downslope toward the drain. The shower pan should be a 60-inch square that allows the user to have a wheelchair-turning radius or a personal aide. 
What materials are required for a handicapped shower installation? 
ADA requirements for a handicapped shower installation should include the following:
The Size: Inside the shower should be sixty inches long and thirty inches wide. The area immediately outside the shower should also be sixty inches long and thirty inches wide.
The Opening: The opening for handicap shower installations should not exceed half an inch.
The Drainage:  A handicap shower installation should have a slope of 1:48 drainage. 
Seating Options: Seating in a handicapped shower installation should be either built-in to the shower wall, or one that can be folded or moved so that it is out of the way. 
Grab bars: Three walls of the handicapped shower installation should have ADA-compliant grab bars. 
The Shower Controls: All shower controls and knobs should be installed measuring from the floor forty-eight inches maximum height.
Shower Head: The shower head should be attached to a flexible hose and slide mount that are easily accessible from a wheelchair.
Glass Door: Instead of shower curtains, glass doors are recommended for a handicapped shower installation. 
 What is the typical cost for a handicapped shower installation?
The cost will vary based on the size and setup of the existing shower. This will determine how much work is required in removing unnecessary components for the required replacements. Contractors that offer handicap shower installation may have a flat rate or may charge by the hour plus materials.
What other special considerations should be taken in the bathroom for a person with disabilities or handicaps? 
When you have a person living in your home that requires a handicapped shower installation, there are components of the bathroom that should be made easier to access as well. Those things include: 
The sink should be wall mounted with a minimum space of 27" wide for a wheelchair to roll up under it. It should not be any higher than 34" maximum. It should have single-handle faucets that do not require grabbing or twisting, hands-free operation is ideal.
An extra-long mirror should be installed low enough to be used from a wheelchair. The vanity should be stable and a grab bar within an easy grasp. Drawers should be installed low and full pull-out with ample storage with easy access.
The toilet should be between 17" and 19" according to ADA guidelines. The toilet paper dispenser should be installed at a comfortable height toward the front of the toilet bowl. Extra toilet paper supplies, sanitary products, personal wipes, and any medical equipment should be at an easy-to-reach location. One grab bar should be installed to the side no further than 18" from the toilet.
Bathrooms for handicapped persons should have good lighting for safety that doesn't create any shadows. Light switches should be installed low for easy access from a wheelchair. Motion detector lighting is recommended, if possible, otherwise, install push buttons instead of the traditional toggle switch style. 
In Closing
Today, you can have a handicapped shower installation in Fort Worth, TX that will blend with the aesthetics of your existing bathroom. The days of accommodating a loved one don't have to give your home a medical appearance with the shower being surrounded with beautiful colors, designs, and shapes of tiles. Give us a call at 817-937-6267 if you live in the area and would like to learn more!