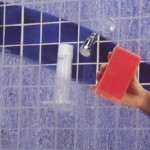 As every homeowner knows, cleaning glass windows, tabletops and shower doors can be a real pain. Even after spending hours wiping down your home's glass with specialty cleaning products, you can still be left staring at streaks across your windows and mirrors. Time and time again you might spray down your glass and wipe away the cleaner only to be left with streaks.
The glass specialists at Armstrong's Glass & Mirror want to offer your a few tips to beat this annoying occurrence and keep your glass crystal clear. This brief guide can help you learn how to clean glass without leaving streaks. The secret isn't as much in the work you exert but the cleaning materials you employ.
Clean Your Glass With Distilled Water
Normally, the mineral content of water is of no consequence when cleaning. However, glass reveals every impurity and choosing distilled water can make a big difference – especially if your tap water is hard water.
Vinegar is a Viable Solution
Vinegar is one of the most versatile products commonly found in homes across America. It's many applications include everything from salad dressing bases to powerful cleaning agent. A mixture of half water and half baking soda creates an effective glass cleaner.
Sometimes, Less is More
When using soap to clean a glass surface, avoid using too much soap. Soap leaves behind suds and residue that is one of the main culprits of streaking.
Don't Wipe With Paper Towels
While paper towels are an excellent tool for picking up little messes around your home, they should not be used to clean glass surfaces. Paper towels inevitably leave streaks as well as lint behind on your mirrors and windows. Instead, wipe down your glass with a microfiber cloth or squeegee.
Buff Out Any Lingering Streaks
If a few small streaks persist after cleaning your glass surfaces, lightly buff them out using a rag, microfiber cloth or chamois cloth. Keep the rag dry and buff over the streaks and watch as they disappear.