When you think of the word glass, you often think of windows or something very breakable, but glass can be a great feature in a home and durable. You can add glass to a variety of things. Yes, windows, but you can make the windows as big as you want, choose to add a skylight to your ceiling, or add glass shelving into your home. Glass isn't always as breakable as it sounds either. It comes in different sizes and thickness to be used for better insulation, variety, and even safety. If you are wondering about your next project, consider using glass to open up your home or bring in extra light to a living space. Here are a variety of ways to utilize glass products.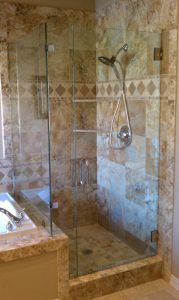 Glass Shower Enclosures – Tired of your boring shower door or maybe you don't like the look of a shower curtain. Consider getting a glass door installed into your home. If you have a smaller shower, this makes it look a lot more open and will also make your bathroom appear bigger as well. This brings a smooth clean look to a bathroom or shower.
Glass Table Top – Wood table tops can get scratched so easily. They also absorb water and can get ruined. If you choose a glass table top not only looks sleek and modern but easily wipes off quickly with a towel and contrary to what you see in the movies, these tables are incredibly sturdy.
Glass can be utilized in so many different ways. If you choose glass, your home will sparkle and shine when it is clean, bringing in more light and also making your home appear bigger than it is. Give us a call at 817-937-6267 for any questions you may have.