When you're searching for home service providers these days, it's easy to see all those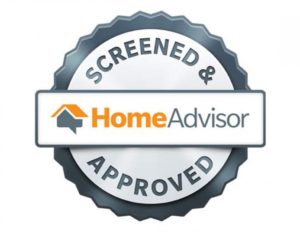 distinctions and badges and wonder what they really mean. After a while, you may consider whether they're really all that important. But it's worthwhile to understand what some of these designations represent, and why hiring a contractor or service provider with said designation is actually worth it.
Home Advisor is a trusted site that has been around since 1998, with the intention of efficiently matching up homeowners with the home improvement professionals they're seeking. It's free and with over five million reviews, it's a tremendous resource for consumers. That being said, when you see a badge on a company's website for a Home Advisor designation — such as Top Rated or Screened & Approved — it truly means something. In fact, these visual indicators are all about providing value information to consumers so they can safely shop for professionals online with far less legwork.
The Home Advisor Screened & Approved badge tells you several things about the company you're researching:
Criminal and background checks have been run on the principles/owners associated with the business
Insurance coverage is in place
Principles of the company are screened for history of bankruptcy, liens, and state legal judgement in the prior 3 years
Social security number for the owner is verified
State business filings are verified
They're licensed for the services they provide
While this list doesn't encompass every single aspect of risk when it comes to hiring a pro, it certainly gives you a degree of peace of mind to know that an unbiased third-party has already done this work for you. Of course, these checks are performed when a company joins Home Advisor, so it's always a good idea to re-validate that licensures and insurance coverage is still active.
So do you have to hire a professional service provider who is Home Advisor certified? Not necessarily, or certainly not any more than you'd also look for Better Business Bureau rating and real-life customer reviews. That's consumer choice at it's finest, and what a great set of tools to have at your disposal as you acquire the services needed to get your home in tip-top shape!
If you're looking for a Home Advisor Top Rated service provider in Fort Worth, TX, look no further than our amazing team at Armstrong's Glass & Mirror! We are glass repair experts, and you can count on our level of service. Just check out our ratings on Home Advisor!