When you have an abundance of glass in your home, you want to make sure that it stays looking its best. Since the second anyone touches glass it becomes dirty, it is a great idea to make sure that you have all the right tools to keep it as clean as possible so that it stays looking great in your home for as long as it can. When your mirrors are covered in fingerprints, it can be hard to see and can make an already clean house, feels dirty. There are a few quick and easy ways to keep this from happening.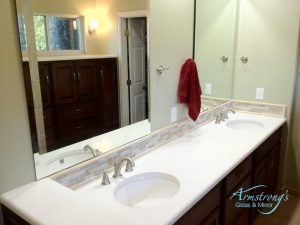 In The Bathroom – It all starts in the bathroom or wherever you choose to get ready in the morning. One of the best tips that we can offer for quick and easy glass cleanup is to keep a small bottle of glass cleaner on your counter or right under your sink to grab after brushing your teeth or touching the mirror on accident. This is a fast and simple way to keep your glass looking great no matter how big of a rush you are in.
Glass Shower – Glass shower doors look great but they can also be a pain. It is important that you take good care of them or they will start to look terrible and eventually you will have so much water and scum build up that you cannot see out of it. If you have something like rain-x, that will be able to be sprayed onto your doors and cleaned easily after every shower.
If you need glass installation or more tips on how to keep your glass clean, call Armstrong's Glass & Mirror at 817-937-6267 and we can help you.