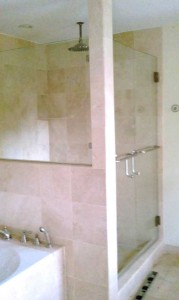 Take a look at your current shower door – how does it look? Are there any noticeable cracks, leaks or missing handles? Does it work the way it's supposed to, or do you struggle with opening and closing it each use?
If your shower door is not up-to-par, consider getting a repair or replacement from Armstrong's Glass & Mirror – before it becomes a bigger problem. Your shower is one of the most important parts in your bathroom and home, so it's a good idea to call a professional right away at the first signs of problems.
Here are a few things you should look for if you think you need a shower door replacement or repair:
The framing is corroded or has rust
The door does not close or open all the way (or needs excessive force)
The door does not fit properly (which was hopefully taken care of right after installation)
The glass is discolored or cracked
You are finding yourself mopping water off the floor after use (a sign of a leak)
Because the bathroom is a high-moisture area, there is not much you can do to prevent build-up on your shower and shower door besides regular cleaning. If the door is older, you may want to look into a replacement as mold and mildew is more likely to gather overtime.
Armstrong's Glass & Mirror should be the first name that you think of. Give us a call today 817-937-6267 for your shower door help, we're here for you through the entire process, from start to finish!